The Firestorm Litter Has Arrived!
August 30, 2021
Since Queen Enya Thea's name means Little Fire Goddess (because her gorgeous colors remind us of a cozy fireplace fire) and these kittens were born during a time of prolonged 95-100 degree heat, raging thunder and lightning storms, and blistering sunshine, we are proud to introduce you to the Firestorm Litter.
All of the kittens in the Firestorm Litter have been named after fire/sun gods and goddesses. The four females are Mariel (patched tabby), Feronia (calico), Arani (another patched tabby) and Freya (tabby). The two males are Prometheus (tabby) and Apollo (tabby).  Almost all of the kittens have white patches here and there because both Enya and Utu also have them.  Welcome little gods and goddesses!
~~ Queen Enya Thea's first litter of kittens are now in their forever homes. ~~
Queen Enya Thea gave birth to her first litter of kittens on October 8, 2020.  There were two boys and two girls.  We named them Persephone, Norman, Tenille, and Ender.  There are photos and more details about the kittens in the gallery below.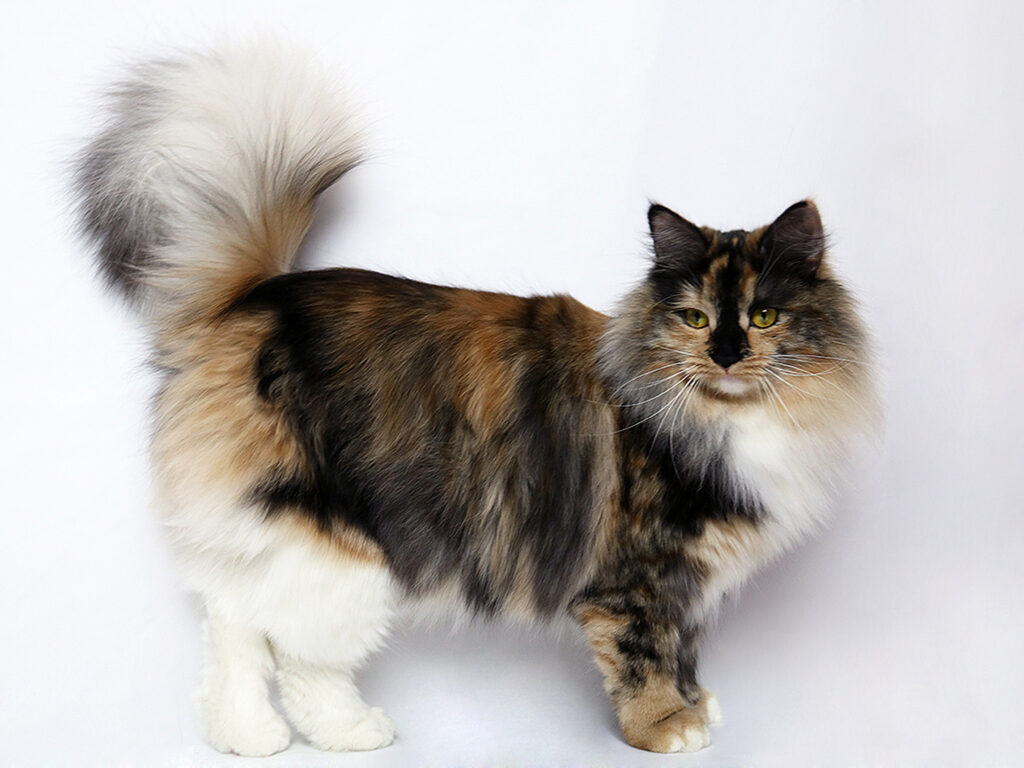 A New Beginning
Born during a time of devastating loss, these kittens are tiny bright spots in an otherwise uncertain and somber world. We weren't expecting our first litter to be born during a global pandemic, but it gave us something to look forward to and something to be happy about in the midst of all of the sadness.
Queen Enya Thea has helped us to focus on the good and not dwell on the bad. She has given us hope for the future. She has truly blessed us with a new beginning...
"Let your hopes, not your hurts, shape your future." - Robert H. Schuller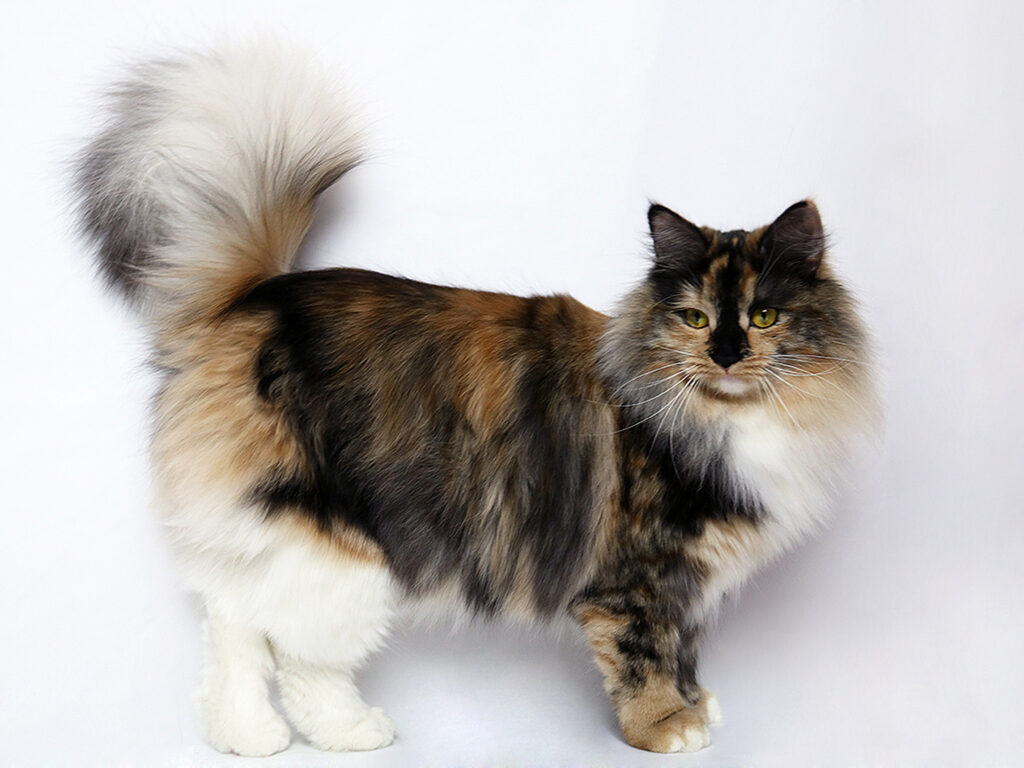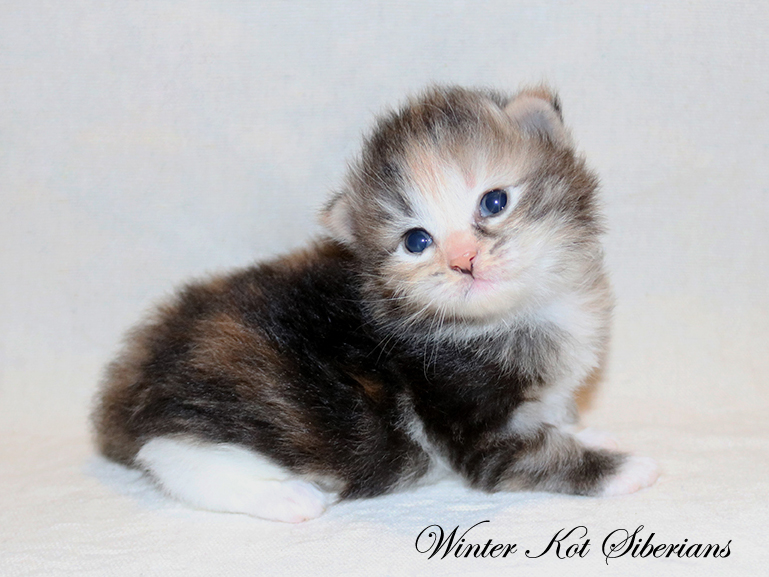 Introducing Winter Kot Persephone!
Persephone is an adorable brown or silver classic patched tabby (with white) Siberian female. She looks a lot like her mommy, Queen Enya Thea, but Enya is a smoke tortoiseshell and Persephone is a classic tabby.
Persephone loves to snuggle and spends a lot of time cuddling with her mommy and her siblings.
"Patience and perseverance have a magical effect before which difficulties disappear and obstacles vanish." – John Quincy Adams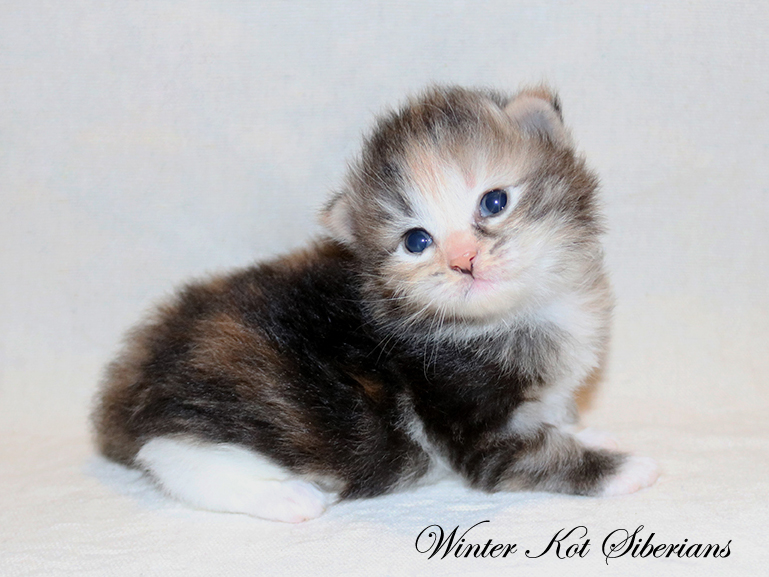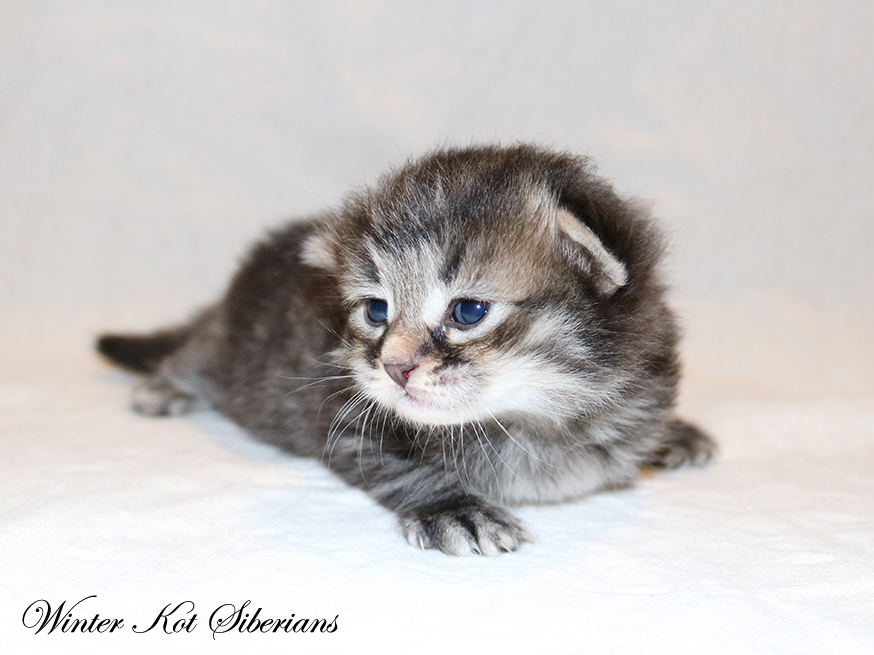 Introducing Winter Kot Norman!
Norman is a large brown tabby Siberian male. He likes to zoom around his kitten room and explore every inch of his environment.  He also loves to snuggle and take naps on people's laps.
Norman has just started running right out of his kitten room when the door is open.  He is already going to find some new adventures!
"Normalcy to me is enjoying the simple things in life." - Atticus Shaffer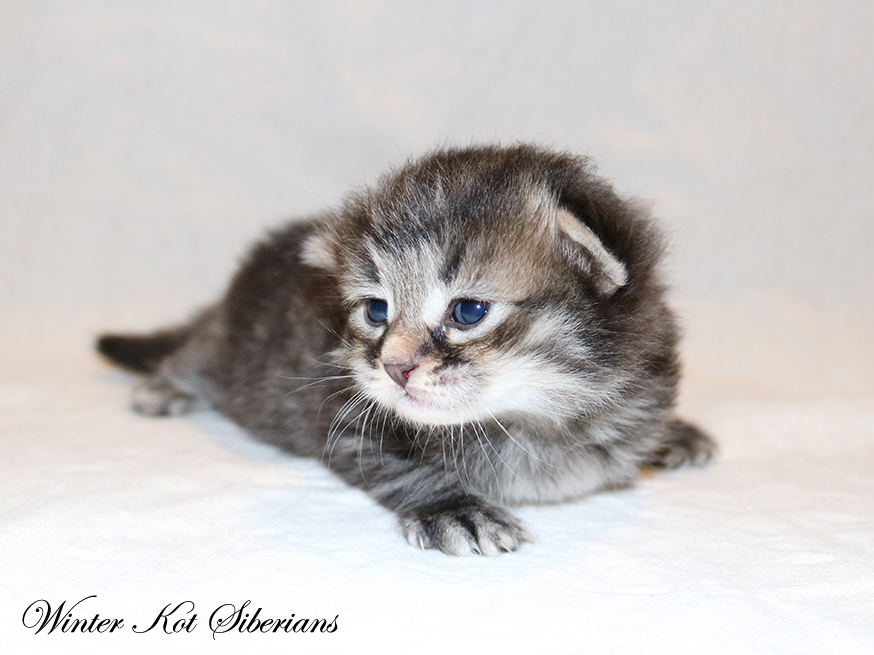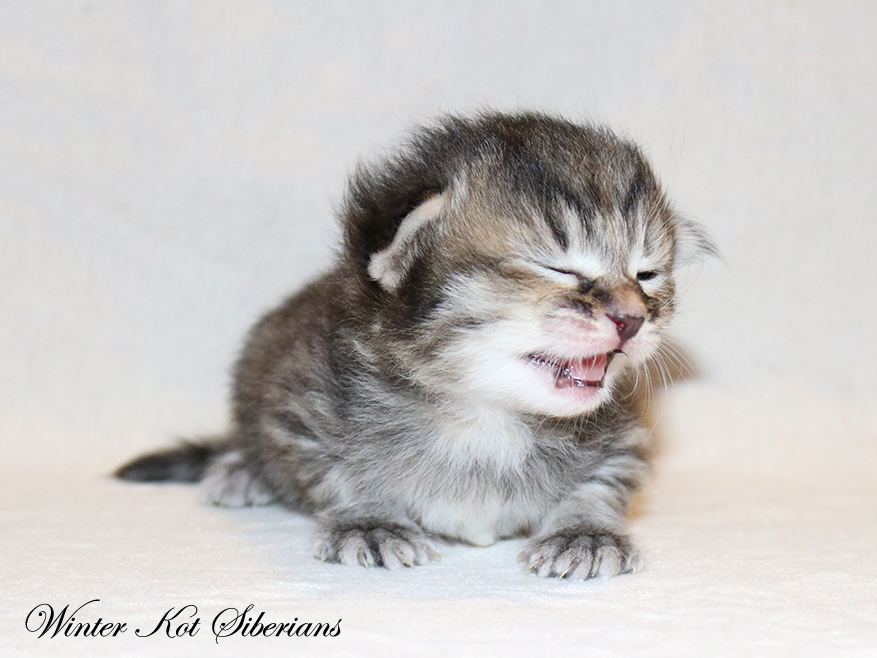 Introducing Winter Kot Tenille!
Tenille is a light brown torbie Siberian female with a pale gold undertone to her fur.  She has a beautiful tabby pattern with patches of red fur scattered around here and there.
Tenille already loves to sleep on her back, which is unusual for a young kitten, but it is actually the favorite sleeping position of Siberian cats.
"Tenacity is strength in adversity." - Martin Uzochukwu Ugwu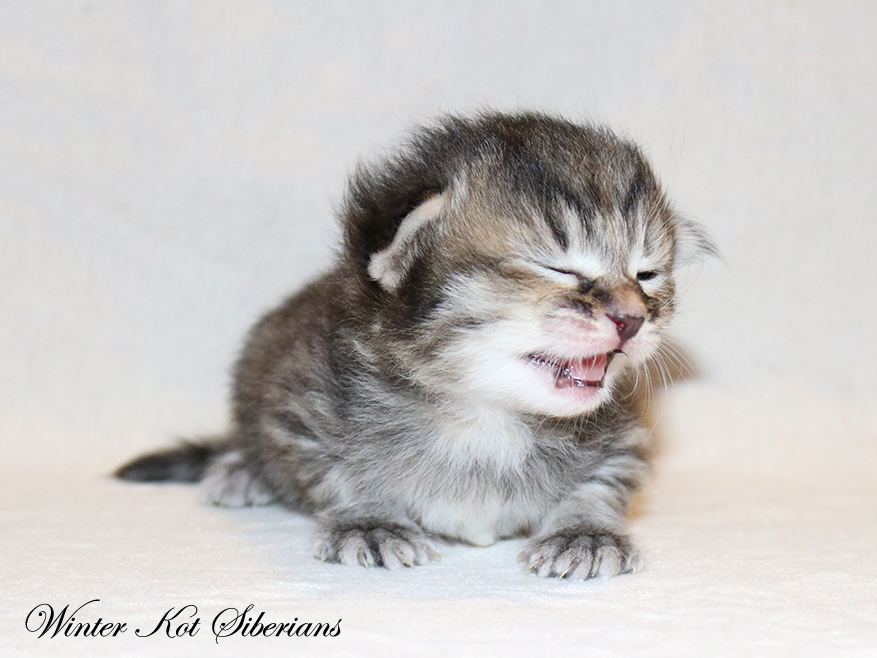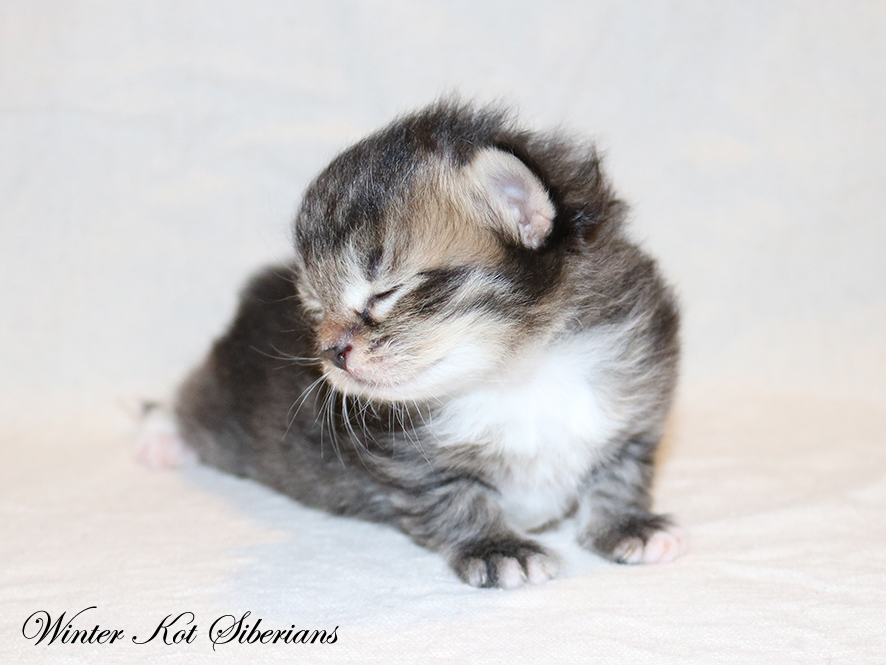 Introducing Winter Kot Ender!
Ender is a super-cute brown tabby (with white) Siberian male. As our relatives like to say, this guy has character! Ender has white socks on both of his back legs, white toes on both of his front feet, and an adorable white tip on his tail.
Ender likes to cuddle with his siblings and can often be found hugging one of them while they are sleeping.
"Endurance is not just the ability to bear a hard thing, but to turn it into glory." - William Barclay