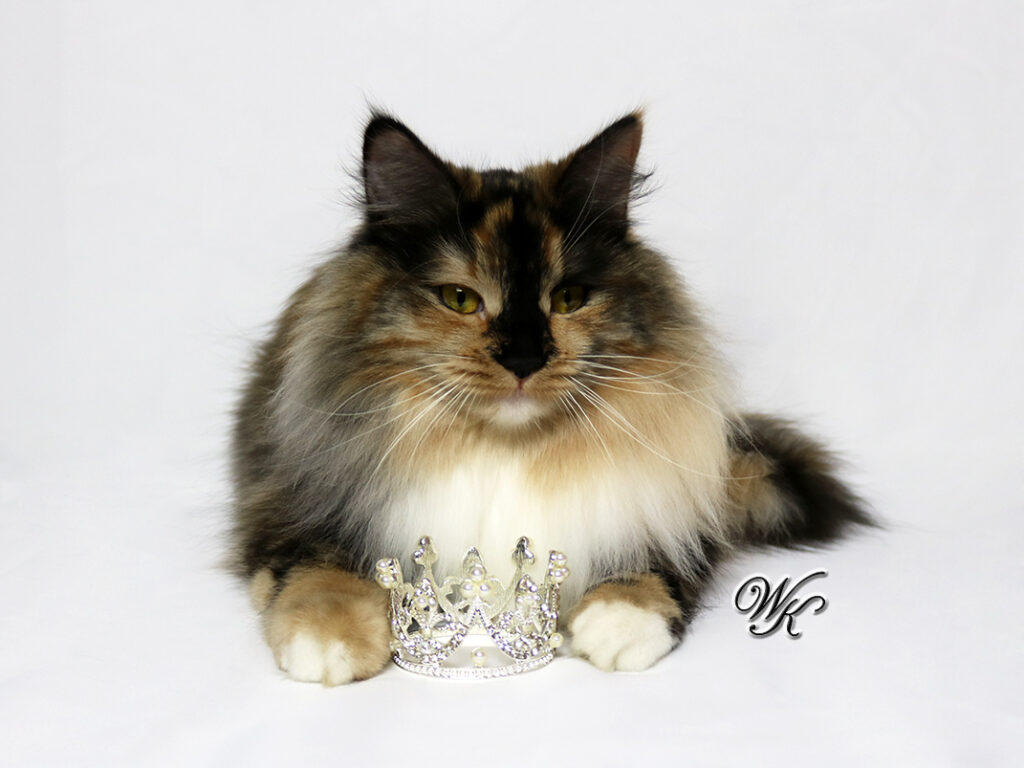 Kings Choice Enya Thea of Winter Kot (Enya Thea)
Queen Enya is a gorgeous smoke tortoiseshell (with white) Siberian female.  Enya Thea means Little Fire Goddess and we think it suits her perfectly!  She is brave, adventurous, and strong while also being loving, sweet, and happy.  We are very happy to have her join our Siberian family and are very excited to be a part of her life for many years to come.
Enya Thea loves to run, chase, and climb.  She actually learned to fetch a ball before she learned her own name!  Another one of her favorite activites is to snuggle and nap after she has tired herself out by running around like the Energizer Bunny.
Queen Enya is registered with the Cat Fancier's Association (CFA) and attended one CFA cat show at 4 months of age.  She won Best of Breed Siberian several times at that cat show.  Enya was very afraid during the entire cat show, so she will be taking a break from cat shows for now.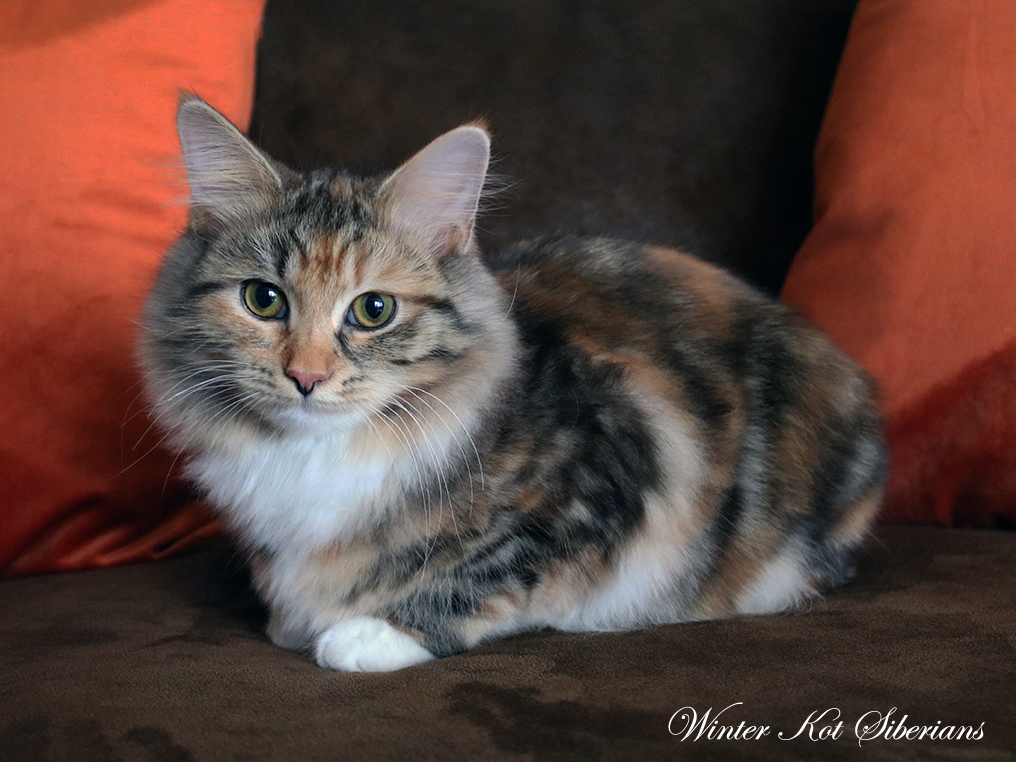 Winter Kot Persephone Hope (Né Né)
We are extending a warm welcome to the newest addition to our Winter Kot Siberians family, Persephone Hope!  Baby Princess Persephone is a brown or silver classic patched tabby (with white) Siberian female. She is the daughter of our stunning Queen Enya Thea and is currently six months old.  Persephone looks a lot like her mommy, Queen Enya Thea, but Enya is a tortoiseshell and Persephone is a classic tabby.  Born during a global pandemic, Persephone Hope was named after the traits of perseverence, patience, and hope, which she exhibits on a daily basis.
Even at such a young age, Baby Princess Persephone is meeting all of the Siberian standards and already has the classic, traditional Siberian look that we require of all of our Siberians. We have been blessed with this wonderful, sweet baby and, like Queen Enya Thea, she truly is one of a kind. We are very excited to welcome Baby Princess Persephone into our family and our hearts. We are looking forward to spending many wonderful years together.
Welcome Home Baby Princess Persephone Hope!
Questions or Comments?
Are you interested in finding out more about Winter Kot Siberians or the Siberian breed in general?  Please read our FAQs or fill out our contact form for more information.  Thank you.
---
Majestic, Traditional Siberian Cats & Kittens in Western NY, Finger Lakes Region